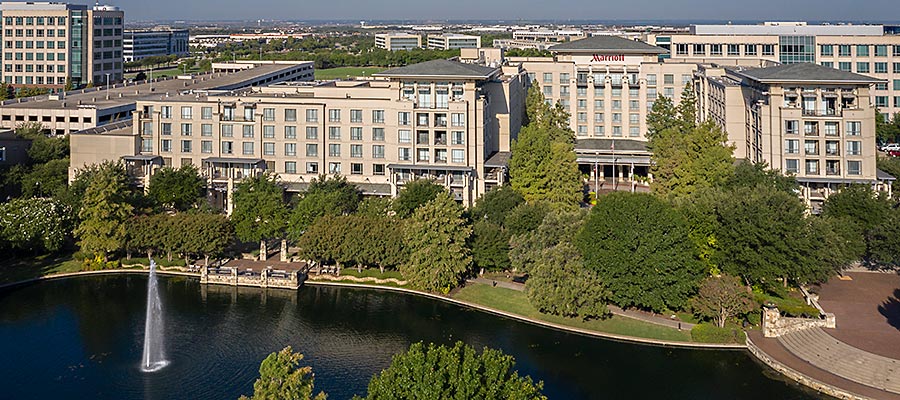 Dallas/Plano Marriott at Legacy Town Center Completes Major Upgrades
Plano, TX April 26, 2019 -
Roch Capital Inc. is excited to announce the completion of multi-million-dollar renovation at the Dallas/Plano Marriott at Legacy Town Center.
The centerpiece of this project was the major overhaul of all 417 guest rooms and bathrooms. Featuring a contemporary design that pays homage to the rich history of the State of Texas, and, more specifically, the City of Plano, each room is thoughtfully complemented by all-new furniture and modern fixtures intended to provide guests with the comfort and convenience they deserve. Expanded new showers and clean lines highlight the guest bathroom experience.
To accompany the refreshed guest rooms, the hotel now features a new Marriott M-Club. Privately located on the sixth floor, the M-Club is an expansive, stylistic upgrade to the former Concierge Lounge. The M-Club provides an exclusive experience for Marriott's elite guests, including 24/7 access to relaxed working spaces equipped with innovative amenities and tech-enabled connectivity; healthy snacks, hors d'oeuvres, and beverages; and a complimentary business center.
Further enhancing the hotel's public spaces, the lobby-level restaurants have been completely transformed. Accompanying the daily breakfast offered at Copper Creek, the hotel now offers Texas-inspired dishes with modern flair at its new signature restaurant and bar, Rustic Jewel. As part of the reconfiguration of the public spaces, the hotel is able to provide guests with roomy and tastefully appointed spaces to host their receptions, celebrations, and other important events. Also located in the lobby and directly accessible from the street, a full-service Starbucks – adorned with artwork by local artist Kyle Steed – serves both hotel guests and members of the local community.
About Dallas/Plano Marriott at Legacy Town Center
Marriott Dallas/Plano at Legacy Town Center is a 417-room full-service hotel including Rustic Jewel, a three-meal restaurant, a full-service Starbucks, and over 30,000 square feet of meeting space conveniently located in Plano's premier leisure and corporate district. For more information on the Dallas/Plano Marriott at Legacy Town Center, please visit https://www.marriott.com/hotels/travel/dalpt-dallas-plano-marriott-at-legacy-town-center/
About Roch Capital Inc.
Roch Capital Inc., is one of the region's fastest growing real estate investment companies. Roch invests nationally in a broad range of real estate assets with a primary focus on urban and resort hotels, urban office and urban multifamily. For more information on Roch Capital, please visit http://www.rochcap.com/ or connect with us on LinkedIn: @Roch_Capital.