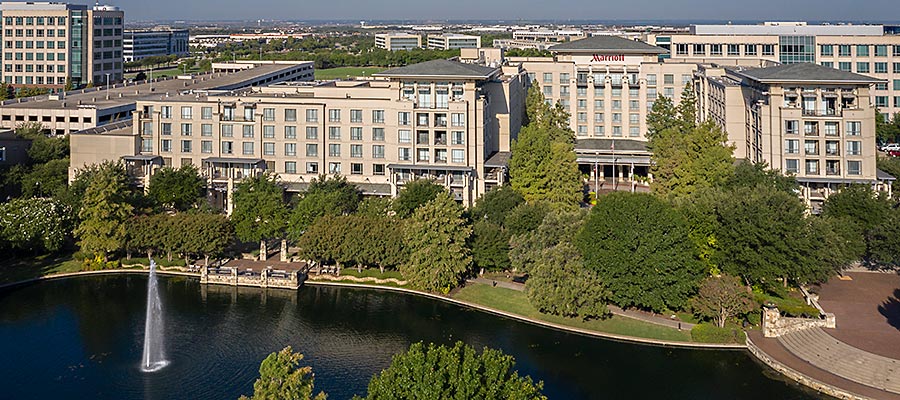 Roch Capital acquires Dallas/Plano Marriott
GLEN MILLS, PA, November 9, 2017 -
Roch Capital Inc. ("Roch") announced today it has completed the acquisition of the 404-key Dallas/Plano Marriott at Legacy Town Center from Ashford Hospitality Prime.
The hotel comprises over 30,000 square feet of upscale meeting space; two food and beverage outlets -- Copper Bottom Grille and Chaddick's; an oversized fitness center and outdoor heated pool; a concierge lounge; a 540-space parking garage; and 15,000 square feet of prime commercial space — Roch will immediately seek retail, restaurant or office leasing proposals.
Dallas/Plano Marriott is well located in the heart of the Legacy Town Center. This vibrant live/work/play urban core location offers guests an expansive scene of creative boutiques and shops as well as dining options out the front door including Jasper's, Del Frisco's, Naan Sushi, The Ginger Man, Cru – Food and Wine Bar, Main Street Bakery, Bob's Steak & Chop House, Mi Cocina, Seasons 52, Fleming's, Coal Vines, The Capital Grille, Mexican Sugar, amongst many others.
Further, Legacy is home to major corporate campuses and headquarters comprising 15 million square feet, including Ericsson, Frito-Lay, Beal Bank, Pizza Hut, DXC (formerly HP Enterprises), NTT Data, Capital One, Bank of America, Dr. Pepper/Snapple, PepsiCo, FedEx Office and many others. Within a 5-mile radius there is over 34 million square feet of office space.
Legacy's corporate roster continued to expand in 2017 with the addition of three blue-chip companies led by Toyota relocating its North American headquarters from California to a new 2.1 million square foot facility. In addition, JPMorgan Chase is building out a 1.4 million square foot campus and Liberty Mutual is completing a 1.1 million square foot regional headquarters. Combined, these three companies add 17,500 employees.
"The Dallas/Plano Marriott at Legacy Town Center is a high quality asset benefitting from a premier location in a high growth market. We are impressed with solid long term growth prospects and believe, in the short term, major capital investments in the lobby and guest rooms will enhance already strong performance," said Vincent Abessinio, Co-President for Roch.
Plano's neighbor, Frisco, recently welcomed the Dallas Cowboys' new headquarters and practice facility.
About Roch Capital Inc.
Roch Capital Inc., through its affiliates, is one of the region's fastest growing real estate investment companies. Roch invests nationally in a broad range of real estate assets with a primary focus on urban and resort hotels, urban office and urban multifamily.
For more information on Roch Capital, please visit rochcap.com.
CONTACT:
CARL H. KRUELLE, III
Senior Vice President
Roch Capital Inc.
484-840-2709
carl_kruelle@rochcap.com